The 2020 Anika Foundation fundraiser
The 2020 Anika Foundation fund raising event for 2020 (to be conducted virtually this year) will occur in late July. In addition to hearing from Governor Phillip Lowe about the economy, at this time of unprecedented difficulties, the reasons for the event—adolescent depression and suicide—are as pressing as ever. Young healthy people are expected to live a long, healthy lives, because the afflictions of old-aged people are largely absent (cancer, heart attack, stroke).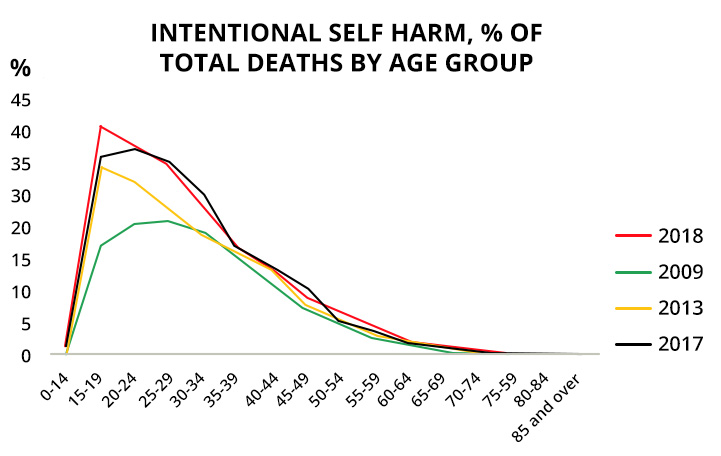 Source: ABS, 3303.0, 2018
Yet the proportion of 15-to-19-year-olds dying from suicide (versus total deaths) has actually risen to 40%, from 35% in 2017 (see the chart). With COVID-19, these proportions risk worsening in 2020, as students in lockdown stress about not keeping up for their exams, finding places at university and jobs after their studies.
Our Activities in the Past Year
In 2018-19, the NSW Scholarships for teachers were awarded to Wayne Humphreys (Baulkham Hills High School) and Tiffany Barreca (Kingsgrove High School). The WA Scholarship was awarded to Elizabeth Kent. All faced stiff competition to win their awards, but their interesting programs to study youth depression and the countering of suicide ideation, ultimately won the day. Their overseas travel arrangements are on hold until international travel is allowed.
Our PhD programs at UNSW and the Black Dog Institute, have both been renewed after the successful completion of PhDs by the previous scholars.
The Black Dog Institute, after a concerted search process, has confirmed the success of an ideal PhD candidate to take up the next Anika Foundation PhD Scholarship. She is Ms Karen Kusuma who began in January 2020. Karen has a Bachelor of Psychological Sciences (First Class Honours) from the University of Queensland. There she received the Dean's Commendation for Academic Excellence two years in a row (2016, 2017). A key element of Karen's PhD proposal is to investigate the effectiveness of machine learning in predicting suicide attempts in Australian youth focused on data from electronic social media. Karen's PhD supervisors will be Dr Michelle Tye and Professor Helen Christensen.
Our new PhD scholarship at the university of NSW, under Prof. Mitchell, has also been renewed. The PhD scholar is Kaiwan Thomson, a very bright and impressive first-class honours graduate also from the University of Queensland. His topic of research is intended to be in the areas of deliberate self-harm (cutting, etc.), depression and suicide in adolescents.
In addition to the above scholarships, we are also pleased to share with you the success of our Aboriginal bursaries program to encourage and network emerging leaders from local communities. Prof. Pat Dudgeon, of the University of Western Australia is on the organising committee for the 3rd World Indigenous Suicide Prevention Conference, (WISPC), 2020. This will be held in Vancouver, Canada at the end of this year.
Five bursaries to attend this conference have been provided for. These were allocated on three criteria: gender (two males/two females, one LGBTIQ); a national geographic spread; and youth working in suicide prevention and/or who have an emerging-leaders profile.
Most of the winners come are associated with the Culture is Life is a national body who have nurtured a youth squad as emerging leaders. See:
https://www.cultureislife.org/ and https://www.cultureislife.org/people/
Fund Raising for Next Year
This year presents a number of difficulties for the annual event run with Governor Philip Lowe, the Australian Business Economists (ABE) and National Australia Bank. We intend to run the event virtually, trying to keep the format as close as possible to previous years. As there will be no hotel lunch, a suggested-donations format will be proposed. The ABE will announce the details in the coming weeks. As you will know, each year the Governor makes an effort to make very useful insights for our audience of market participants.